If you are thinking about exchanging your van, you are going to want the person using it to be an experienced and respectful van owner, just like you!
Someone who understands that your van is much more than just a vehicle; It's your home when you are travelling, your source of happiness, comfort, adventures, memories…Not everyone out there understands this, but we can guarantee you that every van owner does!
That's why only people who own a house on wheels can register to VanVanSwap.
What's more, we offer a verification service that, together with the opinions and reviews from other members, can give you that extra peace of mind you are looking for.
What is verification?
Verification is an optional service offered by VanVanSwap that allows our team to confirm a member's identity and that of the vehicle they have listed. This means, check that it is a "real" person with a "real" vehicle.
Why should I verify my account?
Increases trust: proving you have nothing to hide
Increases opportunities to swap: showing you are genuinely interested in organizing an exchange.
Increases visibility: appearing first in search results.
Increases your chances of finding a match: Some members only wish to be contacted by verified users.
How can I recognize a verified member?
Verified members are recognized by a green check located in the profile picture and in the vehicle announcement.
How do I verify my account?
Click on this button located in your personal profile.

To be a verified member, you must pay a verification fee. It is a one-time-only payment of €50 valid for as long as you wish to have your van listed on our website.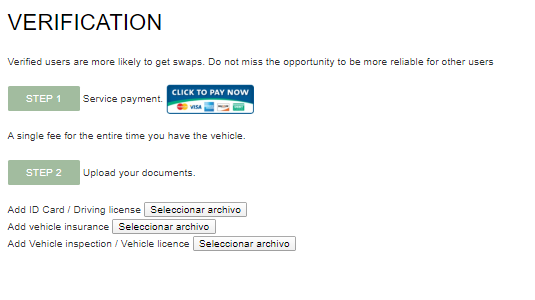 You will also need to upload the following 3 documents to your personal profile:
Proof of identity (photocopy of your ID, driver's license or passport).
The documentation of the vehicle you are listing.
Proof of receipt of the insurance which includes your name and your number plate.
Once these two steps are completed our team will upgrade your profile status to "verified" as soon as the information from the documents has been analyzed and validated.
Privacy and safety are taken very seriously at VanVanSwap. All the necessary requirements in relation to Data Protection Law and legal documents are managed by a law firm specialized in this matter.  Read more about our legal terms and privacy policy.